Camrose & Kross uses authentic methods to render the most accurate replicas of Jackie Kennedy's personal jewelry collection.  For example, the stunning Jacqueline Kennedy Collection pearls are manufactured in the Czech Republic using the method of hand-painting glass beads.  This was a method used by some of the greatest designers around the world.  Jackie's original triple strand pearls were hand-crafted in the very same way.
Today, only one factory remains in existence that still uses this specialized process.  Each strand of pearls from the Jacqueline Kennedy Collection is carefully crafted and hand painted at this very location.  Then, the faux pearls are invidivually strung on hand-knotted silken cords, just line Jackie's original.
DID YOU KNOW?
In Jackie's lifetime, she nearly always wore faux pearl strands.  This gave her the ability to wear them freely and especially around her children.  Being a mother and wife meant the world to her.
Let's take a look at basic jewelry components commonly used in the industry.
Earring Backs
There are many different types of backings that can be used to fasten earrings to the ear, which are typically dictated by the earring design.  Most JBK earrings are designed with a clip.  The clip backing accommodates non-pierced ears.
Hypollergenic
The Jacqueline Kennedy Collection is hypoallergenic.  Allergic reactions to metal, especially to nickel is a common problem in the industry, therefore, the base metal used for jewelry in the Jacqueline Kennedy Collection jewelry is considered:
Nickel-free
Cadmium-free
Lead-free
Additionally, the backs and posts are made from 100% surgical steel, making the jewelry in the collection allergy free.
Clasps for Necklaces and Bracelets
As with earring backs, there are many different types of clasps used in the JBK necklaces and bracelets.  The clasps used iare created in likeness to Jackie's original ones.
There are occasions when a clasp will take on an art form of its own.  Many of the pieces of the Jacqueline Kennedy Collection are replicated from the precious couture pieces in Jackie's private collection and incorporate the box clasp and tongue as part of the design of the jewelry.
Just like Jackie's originals, most chain link bracelets measure approximately 7 inches and come with a complimentary 1-inch extension.  The extension may be used to accommodate a larger wrist.  For Jackie, the extension gave her the optional length needed when wearing her bracelets over her gloves.
Jackie was quoted as saying,  "We do sew on all our buttons and wear gloves and never go out in big cities except in what we would wear to church in Newport on Sundays.
Gold and rhodium are the rare and precious metals that Camrose & Kross use to electroplate jewelry in the Jacqueline Kennedy Collection.  Gold and rhodium are sometimes referred to as "noble metals," due to their resistance to corrosion and oxidation.
Rhodium Plating
Rhodium is a precious metal and a member of the platinum family.  The bright white-gold look of the styles in the Jacqueline Kennedy Collection is achieved by rhodium plating.  A fine layer is applied over a base metal of modern pewter to give the styles a brilliant shine.
Rhodium plating also helps to keep the jewelry looking good longer.  Rhodium will not tarnish or discolor, and since it is a harder substance than gold and most base metals, it is less likely to get scratched.
18 Karat Gold Plating
Gold plating is the term used to describe the process of plating the gold=tone jewelry of the Jacqueline Kennedy Collection.
The plating of gold is deposited over a base metal of either brass or pewter by electrochemical methods.  The beauty of gold, represented in a variety of colors, makes people fall in love with it.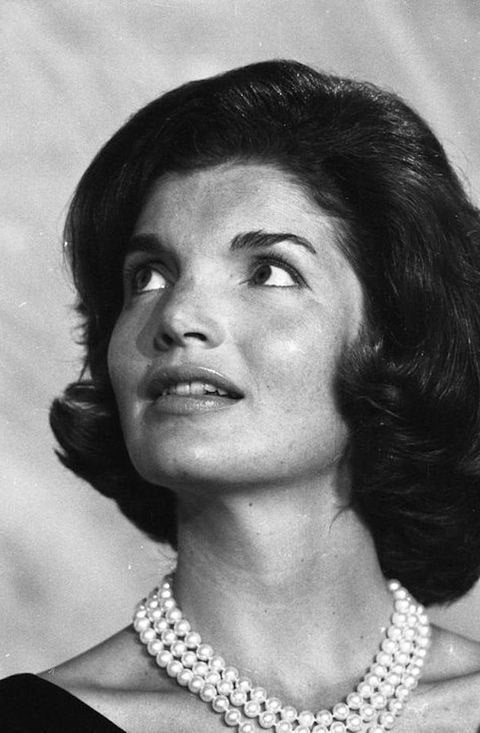 Natural & Cultured Pearls
Long ago, pearls were important financial assets comparable in price to real estate, as thousands of oysters had to be searched before finding one pearl.  They were rare because they were created only by chance.  These pearls are referred to as natural pearls.
Like natural pearls, cultured pearls grow inside a living organism.  However, they do not begin as accidental intruders to the shell.  Instead, humans inseart beads or other shapes into a mollusk.
A pearl may be described in terms of three characteristics:
BODY COLOR:  The domenant overal color of a pearl
OVERTONE:       One or more translucent colors over a pearls color
LUSTER:             The mirror-like reflection on the pearl's surface
Luster
Of all the value factors, luster is the most important in terms of a pearl's beauty.  It is the quantity and quality of light reflected from the surface, as well as from deep within the pearl.  The highest degree of luster is described as mirror-like, due to the sharp, clear reflections that are produced.
Faux Pearls
Believe it or not, Jackie's original pearls were actually faux (artificial, imitation).   Of course, Jackie had to have the finest faux pearls that looked and felt authentic, but they were still faux.
Yet, most faux pearls are inferior, made merely of plastic or wax-fill.  Not only are these inferior beads much lighter than naturl pearls, they will most often lack the overtone and luster of natural pearls.
How Did Jackie Do It?
Camrose & Kross learned from Jackie that faux pearls made with glass offer the best solution, because that's how hers were made:  Unlike other types of faux pearls, Camrose & Kross achieves the Body Color, Overtone and Luster that one might hope to find on even the rarest natural pearls.
Jackie's pearls are legendary.  She is seen in countless photos wearing them, from state dinners to casual outings.  Jackie made pearls classic.
By recreating the precise process in the Czech Republic, each glass bead is blown and then individually hand painted with such precision, one layer at a time.  Finally each is hand thread and knotted with a silken cord for the truest replication of integrity.
Because of this specialized process, the glass beads also offer a close comparison to the natural weight and feel of natural pearls which allows them to move just as elegantly as natural or cultured pearls.  Just like real pearls, they feel chilled until warming to your natural body temperature.
A true work of art to the finest detail -- just as natural or cultured pearls tend to have a slight chill until they warm up to the wearer's temperature, so do these very special faux pearls of the Jacqueline Kennedy Collection.
Proper Care for Glass Faux Pearls
Faux pearls from the Jacqueline Kennedy Collection shouldbe cared for with the same cautions as natural or cultured pearls:
Avoid contac with acids perspiration, cosmitics, perfumes and hair spray.
Keep the pearls away from metal and other materials that will scratch them.
Remove traces of cosmetics, etc., with a damp cloth.
Do not wear the pearls while swimming and avoid chlorine.
Store flat as silken cords may stretch to gravity over time.
Did You Know?
Jacqueline Kennedy's original triple-strand faux pearls sold at the Sotheby's Jacqueline Kennedy Onassis Estate Sale for $211,000 -- making them the most expensive faux pearls ever purchased!
A simulant gemstone is defined as any stone that looks like the desired gemstone.  For example, any material that is transparent, colorless, or near colorless can be a diamond stimulant.  The material needs to be similar in appearance to the preferred gemstone to qualify.
Camrose & Kross uses the highest standard in simulant gemstones.  The jewelry in the Jacqueline Kennedy Collection contains the finest Swarovski Elements and cubic zirconia (CZ) gemstones.
Most often, Camrose & Kross looks for a medium to medium dark, very saturated and evenly distributed, pure color.  Careful selection for color achieves the range of hue, tone, and saturation found in the most precious stones of Jackie's original jewelry.
Clarity
It is rare to find natural gemstones that are "clean" or free of inclusions.  Inclusions are foreign materials or irregularities that are present in the growing environment and are within the crystal as it is forming.  However, Jackie's jewelry collection is of the finest quality and her stones are very rare and very "clean."  Simulant gemstones also allow for the "clean" appearance of Jackie's originals.
Austrian Swarovski Elements
Austrian crystals by Swarovski Elements have been set apart from crystals of other manufacturers for decades.  It is the flawless precision cutting, polishing and lead content of the crystals that makes them beautiful.
Cubic Zirconia (CZ) 
Cubic zirconia (or CZ) is the cubic crystalline form of zirconium dioxide (Zr02).  The synthesized material is hard, optically flawless and usually colorless, but may be made in a variety of different colors.  It should not be confused with zircon, which is a zirconium silicate (ZrAiO4).  It is sometimes erroneously called "cubic zirconium."
Because of its close visual likeness to diamond, synthetic cubic zirconia has remained the most gemologically and economically important competitor for diamonds since commerical production began in 1976.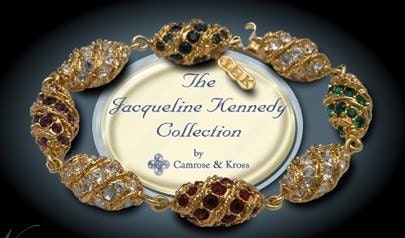 Royal Colors
The Royal Colors are found throughout the Jacqueline Kennedy Collection
Ruby Red
Green Emerald
Blue Sapphire
Purple Amethyst
White Diamond
The Royal Egg Bracelet has each of these Royal Colors and originally contained flawless diamonds, rubies, amethysts and sapphires.
This bracelet was given to Jackie by Ari Onassis, then the wealthiest man in the world, for their first Easter together.  The original bracelet costs $49,000 in 1969.  The one by Camrose & Kross boasts Swarovski Elements of the same colors all set on 18K gold-plated eggs.
Colombian Emeralds
Colombian Emeralds are one of the most valuable gemstones and were most often personal gifts from JFK.  The emrald stone is considered both a nobel stone, a royal color and representative of the Irish heritage.  JFK gave Jackie numerous emerald pieces of jewelry, in honor of his family's homeland, "The Emerald Isle" of Ireland. 
In this category, the rarer and deeper blue-green emerald color of the "Colombian Emeralds" were most often given to Jackiie.  In trade, this term has come to represent the color itself more than the actual country of origin.  These green simulants are hand-selected to be vibrant and truest in shade and color for each of the authentic renderings in the collection.
Did You Know?
The Easter Gift from Onassis contains all the Royal Colors of Ruby Emerald, Sapphire and Amethyst.  Although it is thought that Onassis might have been making a joke as Jackie was our "American Princess, Tiffany suggest the Royal Colors as they had made many pieces for Jacqueline Kennedy over the years and knew her taste.
Each style in the collection comes with the following elements:
Quartz movement made by Seiko, Japan
Serial Number
Camrose & Kross Manufacturer's Authenticity Mark
Each style comes in different colors to best compliment the wearer on any particular day:
Jet Black 
Mahogany 
Navy Blue
Tortoise Shell
Each jewelry style in the collection comes with the following elements:
Romance Card
Beautiful steel case covered in sofe velour and satin
JBK Authentication Mark
Manufacturer's Certificate