So much has been written about the style of Jacqueline Kennedy. So many people, in an attempt to understand her, have launched analyses of her face, her smile, her wardrobes, and her homes. They have dissected her letters, her speeches, her sketches, and her essays looking for the key style, the one thing that will explain how she captivated the globe for so many decades. The truth is that Jackie was not a style leader for any one of these reasons. Rather, all of these things, her person and her words, all enchanted us because they were indicators of one thing - Jackie's free spirit. Jackie was always genuine and lived her life without exaggeration. From her earliest years, Jackie bucked expectations and confidently conducted her life as she saw fit. It was because of this freedom that her sense of style permeated every aspect of her life. We call many people stylish who can choose the right outfit or say the right thing. But Jackie's style is not defined so narrowly. We find that there is no corner of her life, from her majestic entrance to a gala ball, to her private whisper to a head of state, to a thank you note to the White House Staff that was not informed by her trademark panache and flair. Because of this independence, Jackie ws confident enough to be able to share her homes, her books, her causes, and the people she loved with the rest of the world. All of this contributed to what we can call Jackie's style - not a simple chic, but intelligence, culture, beauty and a sense of what needs to be done. Jackie was almost a higher education for the nation. She shared her knowledge of history, her joy in the beauty of painting and song, and her appreciation for the American cultural life. Along with her husband, she raised our expectations of ourselves. As a result, she elevated our opinion of ourselves.  
As a child, Jackie already revealed all the striking characteristics of the woman she would become:  uncommon poise, direct, serene.  On this canvas, her mother imbued her with a strict sense of formal protocol.  She taught her daughter that elegance was generous - that when you dressed youself up, you helped dress up the whole world.  Her "Grampy Bouvier" meanwhile, introduced her to the romantic love of myths and history.
Her father had ore immediate advice for his daughter.  A ladies' man, her father would lecture his daughters on what was currently in fashion, always instructing them to follow their instincts.  He felt that fashion should be individualistic, and even theatrical.  More importantly, he taught Jackie how to carry herself, the importance of creating an aura around herself of mystery and reserve.  "Black Jack" Bouvier once wrote his daughter, "Style is what you are.  It's your essential self--it's what makes you a Bouvier."
He also taught Jackie that it was important to stand out in a crowd, and to always know how to enter a room.  He especially taught her how jewelry was the best way to individualize yourself.  With this, he planted the seed of Jackie's fascination with jewelry.
Jackie was a wonderful student, and even as a young teenager, people always were eager to figure her out, always wondering what was going on behind the wonderful dark eyes of this rebellious girl.
Behind those dark eyes was a quick and inventive mind.  Because of Jackie's voracious reading, she was very substantive with deep knowledge on a wide range of subjects.  But perhaps making her yet rare, she was highly imaginative and very talented.  She did not only appreciate culture, but she was able to translate her appreciation onto paper and canvas as she wrote poems and painted.
On a trip to Europe with her sister, instead of sending mere postcards, the sisters wrote and illustrated a dazzling book which they entitle, "One Special Summer."  The book used illustrations, photographs and poems to tell the tale of their adventures.  The book bore the unmistakable imprint of Jackie's style - witty, urbane, and irreverent.  Jackie also understood herself as a canvas and with the slightest gesture, like a wonderful brooch or jaunty scarf, she acquitted herfself with the same urbane, witty and irreverent style.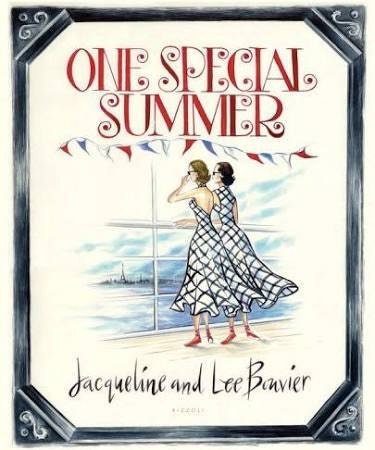 In 1951, the twenty-one year-old Jackie revealed a glimpse of her sophisticated fashion sense when she entered Vogue's Prix de Paris contest, a competition that the magazine offered with its top prize being an editing job in New York and Paris.
For Jackie's self-portrait, she wrote:  "I have a square face and eyes so unfortunately far apart that it takes three weeks to have a pair of glasses made..."  She also had to submit an essay about three people she wished she had known, and her choices were Baudelaire, Oscar Wilde, and Serge Diaghilev.
Jackie was asked to design a marketing campaign for a new perfume.  "Compare it to wine," she suggested, "and call them both intoxicating liquids -- the petal and the grape --and print not the typical photo of a perfume bottle, but rather a wine cellar with a perfume labeled Lentheric, Numero 6/1950, just like wines are cataloged."  For good measure, she also included an entire artistic layout.
Also, when asked whether she thought Vogue should model its clothes on anonymous models or use celebrities or "ladies of distinction," Jackie replied, "A model's job is to efface herself and call attention to her dress... But Vogue would be a bore if it offered nothing but poker-faced mannequins posturing through its pages.  It would have the commercial deadness of some wholesale buyer's magazine.  "Needless to say, Jackie won the contest (though later declined the prize).
At only 31 years old, Jackie entered the White House as First Lady.  She bucked convention again when she proved determined to transform the White House into a temple of culture and taste.  The house she entered was shabby and lacked character, but it would soon reflect Jackie and her vision of her husband's administration:  Sophistication. 
Jackie was appalled at the state the White House when she moved in.  She felt the people's house had been neglected over the years and did not reflect the grandeur of its history or purpose.  In Jackie's opinion, it would prove a poor stage for the American Pageant.  So, she immediately began her world famous restoration.
She organized the Fine Arts Committee for the White House and began soliciting contributions of historically appropriate furnishings and objects of art.  With the committee, she began to unearth the White House's own treasures, stored and forgotten over the decades.  Reflecting her attitude, Jackie said:
"Everything in the White House must have a reason for being there.  It would be sacrilege merely to redecorate it...  It must be restored, and that has nothing to do with decoration.  That is a question of scholarship."
While she commemorated the White House's past, Jackie simultaneously launched its future.  This time, breaking with tradition, Jackie reinvented entertaining in our nation's capital.  With bravura and style, Jackie created nights of culture that would prove legendary.
Her parties drew the best and brightest in the arts, sciences, and politics, all of whom completely enchanged by those glittering evenings.  Jackie made it all happen with careful attention to her fashion, food, flowers, music -- even topics of conversation.  There was an entirely new tone in Washington because of Jackie and her husband and it was dashing and modern.  Against the stately new backdrop of the restored White House, it is little wonder it came to be called Camelot.
Jackie's most memorable innovations in fashion lay not in restoration but in her personal style, where she succeeded in converting a nation to an appreciation of her refined and sophisticated tastes.  Her fashion purchases were scrutinized and celebrated by the press.  While in the White House, she chose American designers like Norman Norell, Stella Sloat and Oleg Cassini.
The "Jackie Look"
Jackie realized the importance of her wardrobe as a counterpoint to her husband's administration--youthfully idealistic and ardently optimistic--and she obsessively poured over the details of each design.  She knew every outfit had to be photogenic and easy to read in a crowd.  She knew to follow the subtleties of construction and detailing, aware that she would be subject to intense scrutiny.  But overarching all of this, she declared that her clothes were to be "in perfect taste-- so simple and so beautiful."
Jackie was absolutely fascinated with jewelry.  Foreign leaders bearing gifts of state to her closest confidants, knew that she loved the art of jewelry above all else in fashion.  As a coordinator of jewelry and wardrobe, Jackie was unmatched.  Already by 1961, after only a year in the White House, "Woman's Wear Daily" had proclaimed that the "Jackie look" had become "part of our collective culture."
Jackie's experiences in the White House, and particularly on trips abroad, served to highlight the affects her style had on the world.  She always dressed and accessorized with an eye for effective juxtapositions and dramatic effect, and it paid off.   Her presence always insured her husband big crowds and safe treatment, and by her own design she became a powerful and potent political asset.
Her effects abroad were priceless, as she broke down barriers between nations, and she became a source of pride for her fellow countrymen--an American beauty abroad.  All in all, during her tragically curtailed reign as First Lady, Jackie taught the nation the transformative possibilities of beauty, culture, and artistic expression.  And in doing so, she taught the country that style was a state of being.
After the White House years, when Jackie once again began to enjoy herself.  Vogue magazine weighed in on the most famous woman in the world:
"...the woman is far better-- delectable, determined, emotional, strongly beautiful, questing...living in her natural element of vital excitement."
Quintessential American Beauty
Jackie was more confident in her own  tastes and didn't feel the intense pressure to fulfill the expectations of her as First Lady.  She was a mix of naturalness and sophistication.  In other words, she was a quintessential American Beauty.
It would be easy to say that Jackie was on top of every fashion trend, but it was much more than that.  Jackie was on top of the changing times, and she created her own zeitgeist.  While the world was changing faster than most people could keep up with -- falling class barriers, the women's movement and increasing internationalism -- Jackie seemed to anticipate the future.
Setting New Trends
Even though she might have defined a certain look in any given year, she was always ready to let go and create a new one for herself, and sometimes overnight.  She was slavishly imitated throughout the 60's and 70's, just as she was while in the White House.  During this time, she was alternately seen barefoot, dripping in jewels, dressed in edgy couture, or strutting in white jears and a tee-shirt.  No matter what she wore, she was definitely Jackie, through and through.
Jackie still accessorizing exceptionally, was setting new trends with her handbags, shoes and jewelry.  Always confident, Jackie followed her aesthetic instinct and never a label.  Of course, Van Cleef and Arpels was her sentimental favorite, since her engagement and wedding ring from JFK came from there, but Jackie was just as likely to pick up a wonderful piece of fashion jewelry from an anonymous boutique because it was perfect.  No matter what she wore, or where she got it, Jackie's jewels became world famous.
Not Quantity, but Rather Quality
Of course, during the Onassis years, Jackie came into major trinkets, including a 40 carat diamond right from Harry Winston.  However, she was never compared in the press to the many celebrities who were famous for the size of their jewels.  She became renowned for accessorizing for the occasion, and never going overboard.  She was always just glamorous enough, or always just sophisticated enough.
Complete Control
It was Jackie's ability to accessorize properly that gave her the self-confidence and boldness to always perform under the intense scrutiny and pressure she received, both as First Lady of the United States, and the first lady of the jet-set life.
Despite the efforts of everyone around her, Jackie never even thought about writing her memoirs.  She never dwelled in the past, but always moved forward.  Her curiosity was to voracious for that, her appetite for new people, new books, new thoughts, and new vistas kept her hungry for life.  When this was matched with her effortless elegance, Jacqueline Kennedy played a dazzling role in the fashion world.  She taught the world how the importance of beauty, culture and artistic expression could be in our everyday life.